ABBYY FlexiCapture para IOS is a mobile document capture client for ABBYY FlexiCapture. This application replicates the functionality of traditional scanning. It captures photos of documents, improves their visual quality and then forwards them to ABBYY.
With ABBYY FlexiCapture for iOS users are no longer limited to using their office scanner and can process any information with the aid of their mobile devices, from anywhere and at any time.
The app doesn't requirer training or or specific scanning skills.With FlexiCapture Mobile App all users do is take a photo with their mobile devices. The app automatically applies sophisticated image pre-processing to ensure 100% of the data can be extracted, then submits the document to ABBYY FlexiCapture Server
Benefits
Document processing begins at moment of taking a photo. No need to wait until paper reaches the office
The process flexibility gained with the mobile client creates new opportunities for working with documents.
Processes virtually any type of document including invoices, questionnaires, contracts, bills of lading, IDs, applications forms, etc.
Perfect for sales managers and representatives, insurance agents, truck drivers, outsourced workers and more.
Ideal as an alternative entry point to ECM and other systems.
Complimenting other FlexiCapture clients, the mobile document imaging app provides an additional point of entry for images and enables users to capture documents at the time and place most convenient to them.
El cliente funciona sin importar el número de páginas que tenga el documento, la aplicación reconoce si es un documento de una página o varias y ajusta el modo de captura.
Redundant backgrounds are automatically detected and cropped to reduce file size and traffic between the client and ABBYY FlexiCapture server.
The quality of images obtained from a mobile phone is comparable to that of scanned images.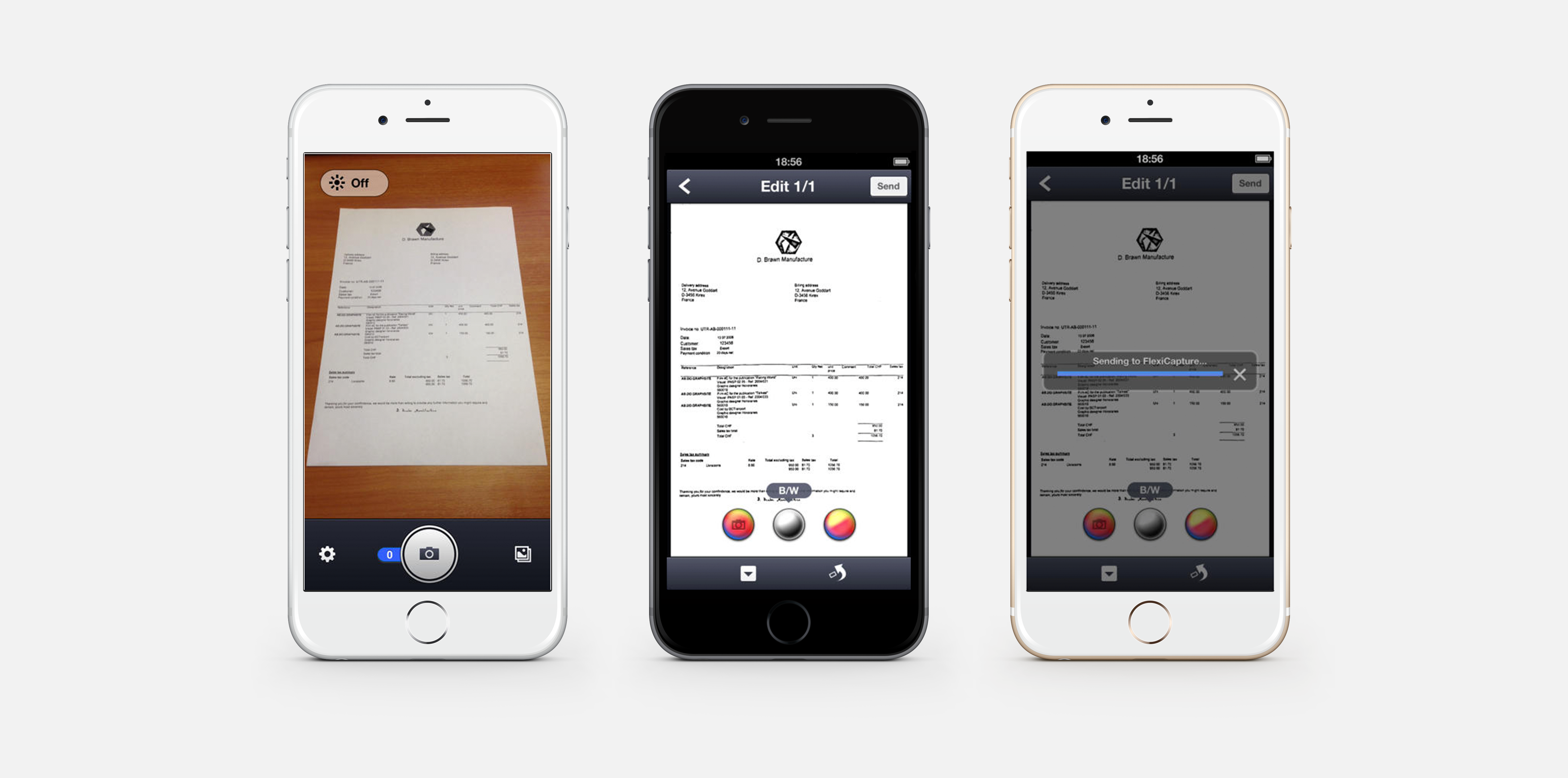 Specifications
Devices
ABBYY FlexiCapture Client runs on the following devices:
iPhone 4, 4S, 5, 5C, 5S, 6, 6 Plus, 6S, 6S Plus, SE.
iPad 3rd generation, iPad 4th generation, iPad mini, iPad Air, iPad mini 2, iPad Air 2, iPad mini 3, iPad mini 4, 12.9-inch iPad Pro, 9.7-inch iPad Pro.
iPod touch 5th generation, iPod touch 6th generation.
Operating System
The app requires iOS 6 and higher.
Memory Requirements
ABBYY FlexiCapture for IOS requires at least 7.3 MB.
Languages
Application supports the following interface languages: